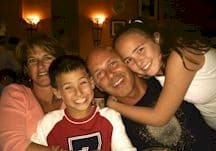 Adam was born in 1962 in Sussex, England. He graduated with a degree in Law from the University of Southampton in 1983 and went on to qualify as a Solicitor and practise Law in London. However, after three years, Adam decided to leave the Law to pursue a career in natural health sciences.
In 1995 Adam became a monthly columnist for Nursing Times and the Health Guardian, reporting on the latest developments and research relating to alternative therapies and complementary medicines.
Adam has written eight books including the international best-sellers: The Secrets of Abundant Health, Wealth, Love & Happiness which have been translated into over 30 languages.
Adam came across the concept of The Flipside through his own ill-health. At eight years old he was diagnosed with Psoriasis and the condition became so severe that he was later hospitalized. However, Adam went on to develop and produce a successful non-steroid treatment for Psoriasis known as 'M-Folia' which is helping people all over the world.